What's Happening at Somerville First United Methodist Church?
There's always something great happening at Somerville FUMC for you and your family.
Explore our full calendar of upcoming services and events below!
MYF BAKE SALE - CAKES FOR EASTER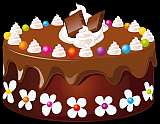 Our youth group is taking orders for 8x8 cakes for Easter. Pickup will be April 16.
Donations only.
Call the church office to order - (901.465.2627) Monday - Friday
Chocolate-Chocolate frosting
Lemon-Lemon frosting
Strawberry-Strawberry frosting
White-White frosting topped with coconut
Deadline to order is April 10